Bolzano Weather
Today: Pretty sunny weather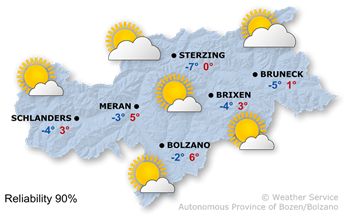 Partly sunny weather with some high clouds during the first part of the day. Very sunny weather in the afternoon. Top temperatures between -2° and +6°.
---
Next days Weather forecasts: Friday weak snowfall
Also on Thursday very sunny weather. On Friday cloudy sky with widespread snowfall, mainly during the forenoon. Saturday unstable conditions with some showers in the evening and the following night. Snow line at 800 m. Slightly weather improvement on Sunday.